Trend Feature—Gourmet Suppliers Catering To Consumer Interest In Healthy Lifestyles
Health issues are a high priority these days, as more and more consumers are becoming educated about healthy cooking and healthy eating habits. Gourmet suppliers are responding to this increased interest in health with a range of housewares, tabletop and gourmet food products designed to make it more accessible, practicable, easier—and even more fun—to cook and eat healthy.
Show Feature—New Exhibitors Expect Positive Retailer Reactions At August NY NOW
Numerous new exhibitors are looking forward to successful debuts at the summer 2013 edition of NY NOW®, the Market for Home & Lifestyle (formerly NYIGF®), running Aug. 18 to 21 at New York City's Jacob K. Javits Convention Center.

"We are pleased to welcome a variety of exciting new resources in gourmet products and upscale housewares," comments Christian Falkenberg, NY NOW director and senior vice president of show producer GLM. "These new exhibitors will be offering a range of fresh and innovative new products that will surely prove interesting to retail buyers shopping the show."

The August event marks the debut of a new format for NY NOW, which was formerly the New York International Gift Fair. As part of the new format, the Gourmet Housewares Show® will be integrated into the Tabletop + Gourmet Housewares neighborhood within the NY NOW HOME collection. More than 300 suppliers of gourmet housewares products and specialty tabletop items will showcase their products during NY NOW.



"NY NOW is one of the must-do trade shows for the housewares industry," asserts Emilie Creuzieux, chief executive of monbento, a four-year-old French firm specializing in portable dining products. "The show brings a wealth of diverse cultures together and acts simultaneous as a magnifying glass and a window by which we can see what is à la mode and where the market is going. We are extremely excited for our first showing at NY NOW and anticipate getting in contact with numerous influential New York-based department stores, specialized boutiques and kitchen shops in addition to general industry contacts and publicity opportunities. In short, NY NOW will enormously contribute to the monbento's growing housewares notoriety.

"Not only is New York City one of the most vibrant and thriving international marketplaces in the world, it is the epicenter of fashion, synonymous with innovation and the place for do-anything creativity in the United States," Creuzieux continues. "NY NOW is the perfect opportunity for monbento to once again showcase our brand and our products on a global scale to an international audience. We will be showcasing our 2013 monbento original bento box collection (above, left) with nine different colors and a variety of colorful accessories, as well as our brand-new liquid range including a bowl, mug and water bottle. The expanding monbento product lines aim to revolutionize eating on-the-go by combining design esthetic and functionality."



Another new exhibitor, Vermont Farm Table, is launching a line kitchen products designed by professional chefs. "We are launching a new line of hard-working kitchen products designed in collaboration with some of Vermont's best known chefs and restaurants," states Dustin Glasscoe (right,) founder of the five-year-old furniture and housewares supplier. "The Vermont Chef Project will bring 15 new kitchen products to the front and center of our show presence. We are thrilled to be a part of the gourmet kitchen and tabletop section, [because] we are a relatively new company in the gourmet kitchen and tabletop industry.

"In addition to the Chef Project we expect the balance of our products to receive a strong response," Glasscoe adds. "Vermont Farm Table makes hard-working, genuine products for the passionate home chef and cooking professionals. Our products are offered in a variety of wood species and are always made with the highest quality raw materials. We anticipate this along with the explosion of the American Craft movement will result in a strong show for our brand."



California-based Tin Parade Vintage Party Goods is also a new exhibitor, and will feature its unique line of table banners (left) in August, launching new seasonal banners for Thanksgiving, Christmas, and New Year's. "This is Tin Parade's first time at NY NOW and we're trying to make as big a splash as we can," points out co-owner and head of operations Ryan Larson. "Our Table Banner line recently debuted; we are feeling some very good momentum from our reps up and down the California coast and think the NY NOW presence will help us continue that forward momentum. NY NOW is huge exposure for us and we're excited to be seen there by some of the major buyers in the gift and home arena.

"To us, New York City is the epicenter of design and the heartbeat of our industry," Larson adds. "As a small product-based business, it's daunting to come to N.Y., but you know your product is going to be in front of all the major retailers, reps and influencers; anyone of which can really put your company on the map in a major way. It's exciting just talking about it."



Toronto-based tableware producer SteelForme will launch more than 100 new products at the August show. "This is the only retail show we will be doing in 2013 so we have high hopes, and this show is very important for us!" declares Craig Bahl, founder and creative director. "Over the past year we have set up a production facility close to Toronto to produce nine new tableware lines using laser technology (right,) which we will be displaying at the show. Our items range from bar to home to kitchen. Our 'Confucius' line consists of tableware items featuring famous quotes laser cut spiraling around our products. We feel this will be well received at the show."



Utah-based Charmeur will debut its special candy-making tool (left) at the August show. "NY Now is the most well-known and well-attended show for products such as ours," notes Maren Toone, vice president of marketing. "Who doesn't love New York City? Of course, NYC as a venue is significant to us, since it's the source of so many of the world's up-and-coming trends. It's also a venue that is likely to attract strong international attendance."



Classic Touch, a New York wholesaler of home décor, gift, and tabletop accessories, is adding several new lines of stainless steel tabletop, home and Judaica accessories, including stainless steel with diamond accents (right,) two-tone stainless steel and stainless steel with flowers. "Our expanding lines of designer products lustrously articulated and infused with pizzazz have metamorphosed our company into a name synonymous with expert craftsmanship," remarks Joshua Deutsch, president. "The beautification and verve we achieve by fusing a vibrant color palette is a result of team spirit, creativity, and integrity."

NY NOW, the Market for Home & Lifestyle will run Saturday, Aug. 17 through Wednesday, Aug. 21, 2013, at New York City's Jacob K. Javits Convention Center and Passenger Ship Terminal Pier 94. NY NOW's four comprehensive collections–Home, Lifestyle, Handmade and New–will encompass 100,000 products in 400+ product categories. Some 35,000 attendees from all 50 states and more than 80 countries worldwide are expected. Information and registration is available online at www.nynow.com.
Industry Q&A—What are your best-selling natural products or nature motifs in housewares and tabletop products? Why are these doing well?

A "Since the best way to ensure that you are eating healthy food is to prepare it yourself, it's a good idea to have the tools that you need and enjoy using to encourage cooking at home. Most important: good sharp knives and other tools that work well, for example Microplane and similar graters, Swiss peelers, Hurom and Breville juicers, silicone steamer inserts and scales. In particular, people are interested in having fry pans that work well but are NOT non-stick so that they don't have to worry about any issues with PFOA, PTFE etc. We are finding even more interest in iron and steel pans that when seasoned offer an excellent non-stick surface (and are also can be used on induction stoves, an increasingly popular choice). Also, cookware such as Le Creuset and Staub cast iron are such a pleasure to use that they encourage cooking at home! Perhaps as a large part of the population ages, there is more concern about health. Maybe people are realizing that they feel better if they eat better and avoid fast food and the extra rich food in restaurants."


—Pamela Elias, Owner, Rooster Brother, Ellsworth, ME
A

"We see this as a trend across-the-board, that people are concerned with what they are eating, and how they are preparing food. There has been a strong movement towards cookware that is perceived to promote healthier cooking, such as grill pans. We're also seeing strong interest in ceramic cookware as an alternative to non-stick pans. We are seeing our customers paying more attention to the oils that they use, as people look for heart-healthy alternatives, including walnut oil and coconut oil. In terms of food storage, our customers are turning more towards glass as an alternative to plastic because of concern about chemicals leaching into their food. We're also seeing customers who are concerned about the product lifecycle—they are interested in environmental issues. For example, we are doing well with a line of biodegradable washcloths."

—Dean Eaton, Owner, Your Kitchen Store & More, Keene, NH
NYC Feature—Treat Yourself—And Your Body—To Healthy Vegetarian Alternatives

Vegetables can be oh-so-much more than side dishes…at least, the way they are treated at vegetarian restaurant Dirt Candy. "Anyone can cook a hamburger, leave the vegetables to the professionals," is this trendy eatery's slogan, backed up by chef and owner Amanda Cohen's unique and innovative vegetarian cuisine. Dirt Candy is one of the only Michelin-recommended vegetarian restaurants in America; the restaurant was voted "Best Vegan Restaurant in NYC" by Citysearch readers, and named "Best Vegetarian Restaurant in NYC" by amNew York, L Magazine and The Village Voice. Snacks and appetizers include tasty treats like jalapeno hush puppies served with maple butter; Chinese kohlrabi salad with purple cabbage wontons and Sichuan walnuts; and fennel and sunflower seed soup with pickled mustard seeds, mustard green pesto and fennel pretzels. Entrees include coconut poached tofu with sea beans, saffron sauce, long beans with Moroccan herbs and sizzling rice; buttermilk battered cauliflower with waffles, horseradish and wild arugula; and parsnip pillows, with watermelon radish, tarragon and parsnip biscuits. Even dessert gets a healthy makeover, with selections including rosemary eggplant tiramisu; popcorn pudding with salted caramel corn; and celery cheesecake roll, featuring celeriac ice cream, peanut filling and candied grapes. Everything on the menu can be made vegan on request. Dirt Candy is located at 430 East 9th Street, between Avenue A and First Avenue. The restaurant opens at 5:30 p.m. Tuesday through Saturday and is closed Sunday and Monday. For information or reservations call 212-228-7732.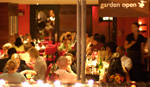 Pure Food and Wine opened its doors in 2004 as New York City's first upscale raw vegan restaurant, and continues to offer fresh and innovative vegetarian cuisine. The menu is chock full of creative and seasonal raw dishes, complemented by an extensive wine list and cocktail creations made with fresh-pressed organic juices. The menu is entirely plant based and does not use any processed ingredients. Nothing is heated above approximately 118 degrees in order to preserve vitamins, minerals, and enzymes. Menu selections spotlight "the very best of everything raw, vegan, and organic," including appetizers such as hazelnut and ale crostini with porcini mascarpone; Philly roll of avocado, kim chee and creamy cashew cheese; and king oyster mushroom scallops with Brussels sprouts and shiitake miso broth. Second courses include curried vegetables with sprouted quinoa poppadom; sweet corn and cashew tamales with chili spiced portabella; and cauliflower couscous with pickled Persian cucumbers. Desserts combine classic sweets with interesting flavors, including cardamom spice layer cake with rhubarb-angelica compote; green tea tiramisu; coconut lime tart with Kaffir lime leaf gelato; and dark chocolate and almond brownie. The restaurant is located at 54 Irving Place, between 17th and 18th Streets and is open every day for lunch from 12 noon to 4 p.m., and for dinner from 5:30 to 11 p.m. For information and reservations, call 212-477-1010.

Show at a Glance
The Tabletop & Gourmet Housewares section of
NY NOW HOME
is the only industry event to focus on high-end cookware, cutlery, bakeware, small electrics, gadgets, tabletop, kitchen textiles and specialty food.
NY NOW HOME
presents a comprehensive collection of 1,200 companies encompassing the home furnishings, home textiles, decorative accessories, tabletop and gourmet housewares categories on Level 3 of the Jacob K. Javits Convention Center. Drawing 35,000 attendees from all 50 states and 80+ countries,
NY NOW
is produced twice annually by GLM Shows and is open to trade only.
Donna Boyle Schwartz, Gourmet In NY editor:
donna@dds-enterprises.com
or telephone 845.298.9365.
Click
here
for previous issues of Gourmet In NY.