Trend Feature—Tea Traditions and Coffee Culture Take Center Stage In Gourmet Housewares Introductions
Whether you enjoy your caffeine piping hot or icy cold, there is no denying the appeal of tea and coffee in today's society. Beverages are big business, and companies are highlighting a plethora of new products designed to enhance the experience. Introductions at January edition of the New York International Gift Fair® in New York City ranged from infusers and brewing units designed to create the perfect cup, to luscious combinations of exotic ingredients blended to produce irresistible aromas and flavors.
Show Feature—Gourmet Housewares Firms Build Momentum at
Winter NYIGF®
Leading gourmet housewares suppliers continued to build on successful product launches from August and introduced a broad range of new items at the winter 2013 New York International Gift Fair® (NYIGF®), held Jan. 26 to 30, 2013 at New York City's Jacob K. Javits Convention Center.

Many of the companies that participated in the sold-out Gourmet Housewares Show at NYIGF in August returned for the January NYIGF, exhibiting in the Show's Tabletop & Housewares division. "Many of the suppliers who exhibited at the Gourmet Housewares Show at NYIGF realize the benefits of year-round exposure to the thousands of retailers who shop NYIGF," comments Christian Falkenberg, director of NYIGF and vice president of GLM, which produces the Show. "These gourmet housewares exhibitors report strong sales among their traditional retail customers; they are also taking advantage of the opportunity to cross-merchandise their products to alternative retail channels, including gift shops and home furnishings stores."

More than 33,000 retailers from all 50 states and more than 90 countries attended the January NYIGF, and many exhibitors said that order-writing was brisk. "The buyer demographics at this show told a story of economic upswing," notes Falkenberg. "Small retailers are demonstrating renewed optimism, and buyers are traveling greater distances specifically to shop the New York market."

Gourmet housewares companies exhibiting in January say the Show surpassed expectations.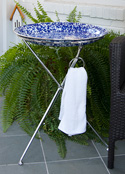 "The January show was well attended and buyers were there to do business," comments Peggy Hedgpeth, president of enamelware supplier Golden Rabbit. "Our presence in the show is a great opportunity to see our customers face to face and provide overall good public relations. New England is one of our biggest territories and this show is very important to maintain relations not only with New England customers but also national and international customers.

"Golden Rabbit introduced a plethora of new products at the January Show and found positive feedback across the board," Hedgpeth adds. "Our new mixed medium enamelware and rattan trays and boxes were well received; also we introduced a new collapsible nickel plated table base (left), which holds any of our large trays—simply change the tray and you can change the look. But the 18th century reproduction French porcelain was the star of the show and stopped many customers in the aisle. Its delicate colors reminded people of sea glass while the classic design is quite unexpected in an enamel medium."



Contemporary gift and tabletop supplier Yedi Houseware also reported good results. "Our Botero Home Brand made a huge splash into market scene, in addition to the new Woven Classic and Contemporary collections," states Bobby Djavaheri (right), director of sales and development. "I believe the January Show was slightly better than the August Show. NYIGF provides our company with a broad spectrum of customers. Our line is distributed in over 20 countries and in this Show, in particular, we had the largest South American turnout in our company's history."


London-based gadget and housewares supplier Joseph Joseph launched its innovative C soap dispenser, a new Utility range, and Mezzaluna and Cheese Knives (left). "The Show gives us the opportunity to gain feedback from our customers and to inform them of all the exciting developments within our business," states Damon Willmott, sales director. "It's a great place to launch our new collections and also to showcase our entire portfolio of products; it enables buyers to see our whole offering and to give ideas on how to merchandise our range.

"We strive to offer a point of difference in both functionality and design aesthetic—we feel we have our own signature and offer playful but very useful problem-solving items," Willmott continues. "We always keep to our style so products are cohesive and can be purchased as a collection over time and sit very well together in the consumer's home. We concentrate very much on durability and functionality so our products will last and serve our consumers for years ahead."



Another London-based firm, industrial designers Black+Blum, added several unique new products, including a polar bear ice cube tray (right). "We had a great show, introducing more new products than we did in August, and were thrilled at how well they were received," points out co-founder Dan Black. "Exhibiting is the only way to introduce new products to the U.S. market while meeting with new and existing customers at the same time. The polar bear ice tray, called Brrrr..., received a great reaction, bringing a sense of fun to making ice while solving the functional problems with existing trays."

German housewares supplier Koziol received a good reaction to its colorful new Leaf and Crystal salad bowls, according to Tobias Mautner, export manager. "Customers loved the shapes and colors of these lines," he says. "The January show was much higher frequented then the August edition and our booth location helped us to have better sales. We worked with a bigger booth this time to show customers the possibilities of Koziol."

Cookware supplier Art & Cuisine had a good reaction to its bold colors, introducing red, blue and purple to its cookware line. "We had a really good Show overall, with a strong reaction to our products," comments president Stephan Memmi. "We saw a lot of our existing customers and made a lot of new contacts as well."

Newcomer Teroforma debuted a variety of items, including Icon Whiskey Stones, Bread & Butter Boards and the Troika Trivet. "This particular Show happened to be our first solo showing and it allowed us to 'spread our wings' a bit and exhibit our entire collection," states Lauren Herbert, brand director. "Having the space and presence was extremely exciting. The NYIGF allows us an unparalleled connection to buyers not just in the U.S. but on an international level as well.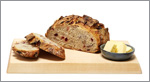 "We launched two distinct product ranges at the show—both were well received by customers and press," Herbert continues. "The first is the Whisky Stones ICON collection, sets of three polished, engraved soapstone beverage cubes that ensure there is always much more in your glass than just your favorite spirits. The second launch continues our development on the tableware side with design-led, thoughtfully crafted pieces: our Bread & Butter Board (left) brings a bit of additional functionality to the traditional wooden serving board. An accompanying small soapstone bowl nestles perfectly into an opening, which also doubles as a hook or handle. The Troika Trivet has embedded rare earth magnets allowing this three-piece trivet to transform from 7 to 10 inches accommodating a wide variety of hot dishes. After dinner the Troika Trivet pulls apart and nestles neatly together fitting in a drawer until the next use."

During the winter NYIGF, a preview of the reorganization and rebranding of the market was announced. Beginning in August 2013, a new exhibit floor layout will position the show's more than 2,800 exhibitors into four comprehensive broad market collections: Home, Lifestyle, Handmade, and New! The show also will adopt a dynamic new brand: NY NOW, the Market for Home & Lifestyle.

NY NOW, the Market for Home & Lifestyle will run Saturday, August 17, through Wednesday, August 21, 2013, at New York City's Jacob K. Javits Convention Center and Passenger Ship Terminal Pier 94. NY NOW's four comprehensive collections – Home, Lifestyle, Handmade and New – will encompass 100,000 products in 400+ product categories. Some 35,000 attendees from all 50 states and more than 80 countries worldwide are expected. Information and registration is available online at www.nynow.com.

Industry Q&A—What were the most interesting or innovative new products in the Tabletop & Housewares Division of the NYIGF?

A "The New York International Gift Fair always offers such a dazzling array of styles and designs suited to every possible trend that one could point to almost any corridor and find a cohesive theme. While it would be possible to list dozens of appealing and tantalizing trends, I tend to gravitate toward the revival of products that look like they could have stepped out of a late 1960s interior design magazine. The return of items that are clearly a nod to Kaj Franck, Finel, Catherine Holm, Dansk and other Finnish and Scandinavian brands is such a welcome trend. Bold graphics, interesting patterns and deep colors applied on spare, unornamented or even clever modular shapes are the hallmarks of that era, and I saw dozens of products that either emulated that, or were actual reproductions, all over the show. It is a wonderful era to breathe new life into. I know my customers at Stock will respond to these tabletop items because they not only feel faintly nostalgic, but some of those shapes are simply, inherently alluring. They aren't fussy, but with interesting graphics and colors, they aren't boring either. People know that a simple bold piece can spark an entire setting. I am eager to bring in a hearty supply of these Finnish-style products into Stock."


—Jan Faust Dane, Owner, Stock Culinary Goods, Providence, RI
A "I loved the items from the brand DCI; we ordered these and they were a major hit in Panama and we plan on continuing with them. We also loved Two's Company—we are opening a new store, and we are going to stock it with a lot of items from this brand because they have such lovely things."


—Marta E. Sosa, General Manager, Cookshop, Panama City, Panama

A
"I am a Canadian company and attend the Show to be on top of what is happening outside of Canada, and to find innovative products that would not be common here. My favorite at the show was the Argentina stand. The company No Brand won out on all other companies on branding Argentina, the things that Argentina is famous for. For my purposes, I was pulled in by the Mate gourd that the company had created. These gourds are used to drink Maté, an herbal from South America, and traditionally a rough gourd is used. No Brand however had modernized it with clean clear lines into something I had never seen before. Everything that is happening in tea is wrapped around how we are re-packaging an age-old beverage for our modern day lives. And this product spoke to me on that."
—Shabnam Weber, Owner, The Tea Emporium, Toronto, Canada
NYC Feature—Treat Yourself To Some Bacon In Everything from Snacks to Cocktails


Crif Dogs is a hot dog lover's dream come to life on Manhattan's Lower East Side. The brainchild of childhood pals Brian Shebairo and Chris Antista, Crif Dogs has been serving up its luscious deep-fried tube steaks since 2001, but recently it's been all about the bacon. The menu offers up juicy, bacon-wrapped hot dogs topped with numerous options, including the Good Morning, a bacon-wrapped dog smothered with melted cheese and a fried egg; the Spicy Redneck, a bacon-wrapped house dog with chili, cole slaw and jalapeños; the B.L.T., a bacon-wrapped dog with lettuce, tomato and mayo; the Tsunami, a bacon-wrapped house dog with teriyaki, pineapple and green onions, and the Chihuahua, a bacon-wrapped dog covered with avocadoes and sour cream. For non-bacon-believers, Crif Dogs also offers Veggie Dogs, burgers, fries, shakes and floats. Crif Dogs is located at 113 Saint Marks Place, between 1st Avenue and Avenue A in Manhattan, or at 555 Driggs Avenue @ North 7th in Brooklyn. The Manhattan eatery is open Sunday through Thursday from 12 noon to 2 a.m., Friday and Saturday from 12 noon to 4 a.m. For information, call (212) 614-2728.



If you'd prefer to get a dose of bacon-y goodness in cocktail form, you don't have to go far—just around the corner at 14 Avenue A near Houston Street is the New York branch of the Double Down Saloon, the Las Vegas taproom renowned for creating the Bacon Martini. The Double Down has gone one better with the addition of the Bacon Bloody Mary. Both cocktails are made with Double Down's bacon vodka, created by infusing vodka with hickory-smoked bacon. Truly a bacon-licious experience! For information, call 212-982-0543.

Show at a Glance
The Tabletop & Gourmet Housewares section of
NY NOW HOME
is the only industry event to focus on high-end cookware, cutlery, bakeware, small electrics, gadgets, tabletop, kitchen textiles and specialty food.
NY NOW HOME
presents a comprehensive collection of 1,200 companies encompassing the home furnishings, home textiles, decorative accessories, tabletop and gourmet housewares categories on Level 3 of the Jacob K. Javits Convention Center. Drawing 35,000 attendees from all 50 states and 80+ countries,
NY NOW
is produced twice annually by GLM Shows and is open to trade only.
Donna Boyle Schwartz, Taste of NY editor:
donna@dds-enterprises.com
or telephone 845.298.9365.
Click
here
for previous issues of Taste of NY.