Donna Boyle Schwartz Author Archive
Consumer Editorial:
FAMILY and SALUTE magazines:
6 Radiator Cover Ideas to Match Your Home's Decor
Holiday Guests Are Staying Over? Here's Where You're Going to Put Them
11 Things You Didn't Know Your Steam Cleaner Could Sanitize
Plush vs. Firm Mattress: What's the Difference?
So You've Just Purchased Your First Home: Here Are the Essentials You Need to Buy Now
Especially This All-Purpose Cleaner is the Secret to Keeping a Clean Home
15 Easy Ways To Reduce Your Carbon Footprint At Home
10 Reasons You Should Always Get Renters Insurance
9 Problems That Could Be Activating Your Car's Check Engine Light
19 Things in Your Home That May Have Expired
12 Ways You're Accidentally Spreading Germs Around Your House
10 Purchases You Should Always Get an Extended Warranty On
10 Popular Home Upgrades That Can Cost Less Than You Think
Decoding Shop Talk: Here's What Your Contractor Is Actually Saying
Your Most Common Home Security Questions, Answered
7 Car Sounds You Should Never Ignore
If Your Home Smells Funny, Check These 8 Problem Areas
12 Surprising Things You Should Never Clean with Water
14 House Problems That Don't Require a General Contractor
How to Know If You're Dealing with Lead Pipes—and What to Do About Them
New York Spaces Magazine:
More from New York Spaces Magazine:
Between the ocean and a field, an Amagansett garden carves out its natural niche.
Interior designer Clodagh creates collage for producer Georganne Heller's shoe collection.
19th century French chandeliers add an aura of grandeur and ornamentation.
Acclaimed New Jersey designer Diane Boyer creates subtly elegant décor for Saddle River home.
The Robb Report:
More from The Robb Report:
Tabletop Art: Add sparkle to your holiday table with these limited editions.
Power & Influence: 22 People Who Will Shape Luxury
Trade Editorial:
HomeWorld Business:
Kitchenware News & Housewares Review:
More from Kitchenware News & Housewares Review:

Textural Tabletop, page 12: http://osercommunicationsgroup.uberflip.com/i/317604
Bridal Registries, page 1 and Outdoor Décor, page 12: http://osercommunicationsgroup.uberflip.com/i/250930
Holiday Housewares, Home Décor & Tabletop, page 18: http://osercommunicationsgroup.uberflip.com/i/335342
Clocks as Home Décor, page 24: http://osercommunicationsgroup.uberflip.com/i/300051
Sustainable Home Décor, page 1: http://osercommunicationsgroup.uberflip.com/i/232182
Home Textiles Today:
LDB Interior Textiles:
Marketing Communications/News Releases:
Home Furnishing International /Westgate Home Fashions:
Palmetto Pedic Unveils Domestic Foam Line
Home Furnishing International Opening Major Las Vegas Showroom
Home Furnishing International Forms New Joint Venture Mattress Supplier
Home Furnishing International Names Jane McCormac-Raab President
Home Fashions International Launching Major Outdoor Collection
Woods International/Scott Living:
Woods International Signs License With Drew & Jonathan Scott, Hosts of HGTV's Property Brothers
The National Sleep Foundation:
National Sleep Foundation, Hollander Sleep Products Launch Live Comfortably Brand At Bloomingdale's
National Sleep Foundation Highlights Bedroom Environment
National Sleep Foundation Stresses Sound Sleep As Vital To Health
National Sleep Foundation Focuses On Light Control
International Market Centers/Las Vegas Market:
Las Vegas Market Sustains Strong Gift Leasing
Las Vegas Market Expands Partnership With Aid to Artisans
Las Vegas Market Continues Stunning Home Décor Surge
George Little Management and NY NOW show:
George Little Managment and Global Home Textiles Show:
New Global Home Textiles Debuts May 8-10 in Orlando, Florida
U.S. Home Textiles Industry Undergoes Radical Shift To A Global Sourcing Model
CNR International Trade Fairs: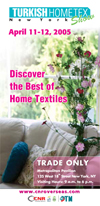 Turkish HomeTex Show Scheduled
Turkish HomeTex Show Highlighting Fashion, Variety and Quality
Exhibitors, Visitors Establish Partnerships At New York Turkish HomeTex Show
CHF Industries Curtainworks.com:
Home Accent Fabrics:
Home Accent Fabrics Spotlights Pioneering Digital Prints
Waterford:
Waterford Bed Linens Epitomize Timeless Quality, Classic Design & Affordable Luxury
Biaggi: