Donna Boyle Schwartz Author Archive
Consumer Editorial:
FAMILY and SALUTE magazines:
Careers: 5 Networking No-Nos
Careers: Focusing On Freelancers and Classroom: Checklist: Getting College Credit For Military Service & Prior Courses
Careers: How To Say No & Still Succeed
Health: Health Care Meets Technology: New MHS GENESIS expected to transform care for the military community
Book Nook: 'The Army Changed My Life:' Stedman Graham's new book spotlights the life skills he learned in civilian and military life
Education Feature: Our Community Salutes
New York Spaces Magazine:
More from New York Spaces Magazine:
Between the ocean and a field, an Amagansett garden carves out its natural niche.
Interior designer Clodagh creates collage for producer Georganne Heller's shoe collection.
19th century French chandeliers add an aura of grandeur and ornamentation.
Acclaimed New Jersey designer Diane Boyer creates subtly elegant décor for Saddle River home.
The Robb Report:
More from The Robb Report:
Tabletop Art: Add sparkle to your holiday table with these limited editions.
Power & Influence: 22 People Who Will Shape Luxury
Trade Editorial:
HomeWorld Business:
Kitchenware News & Housewares Review:
More from Kitchenware News & Housewares Review:

Textural Tabletop, page 12: http://osercommunicationsgroup.uberflip.com/i/317604
Bridal Registries, page 1 and Outdoor Décor, page 12: http://osercommunicationsgroup.uberflip.com/i/250930
Holiday Housewares, Home Décor & Tabletop, page 18: http://osercommunicationsgroup.uberflip.com/i/335342
Clocks as Home Décor, page 24: http://osercommunicationsgroup.uberflip.com/i/300051
Sustainable Home Décor, page 1: http://osercommunicationsgroup.uberflip.com/i/232182
Home Textiles Today:
LDB Interior Textiles:
Marketing Communications/News Releases:
Home Furnishing International /Westgate Home Fashions:
Home Furnishing International Opening Major Las Vegas Showroom
Home Furnishing International Forms New Joint Venture Mattress Supplier
Home Furnishing International Names Jane McCormac-Raab President
Home Fashions International Launching Major Outdoor Collection
Woods International/Scott Living:
Woods International Signs License With Drew & Jonathan Scott, Hosts of HGTV's Property Brothers
The National Sleep Foundation:
National Sleep Foundation, Hollander Sleep Products Launch Live Comfortably Brand At Bloomingdale's
National Sleep Foundation Highlights Bedroom Environment
National Sleep Foundation Stresses Sound Sleep As Vital To Health
National Sleep Foundation Focuses On Light Control
International Market Centers/Las Vegas Market:
Las Vegas Market Sustains Strong Gift Leasing
Las Vegas Market Expands Partnership With Aid to Artisans
Las Vegas Market Continues Stunning Home Décor Surge
George Little Management and NY NOW show:
George Little Managment and Global Home Textiles Show:
New Global Home Textiles Debuts May 8-10 in Orlando, Florida
U.S. Home Textiles Industry Undergoes Radical Shift To A Global Sourcing Model
CNR International Trade Fairs: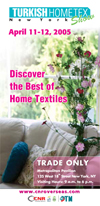 Turkish HomeTex Show Scheduled
Turkish HomeTex Show Highlighting Fashion, Variety and Quality
Exhibitors, Visitors Establish Partnerships At New York Turkish HomeTex Show
CHF Industries Curtainworks.com:
Home Accent Fabrics:
Home Accent Fabrics Spotlights Pioneering Digital Prints
Waterford:
Waterford Bed Linens Epitomize Timeless Quality, Classic Design & Affordable Luxury
Biaggi: